Barcelona's Denis Suarez is one of the most efficient players in La Liga
Denis Suarez could have a chance in Barcelona's starting luneup against Sevilla on Saturday after doing well in the Champions League draw against Olympiakos. The midfielder has shown good form when he's played and the statistics back that up.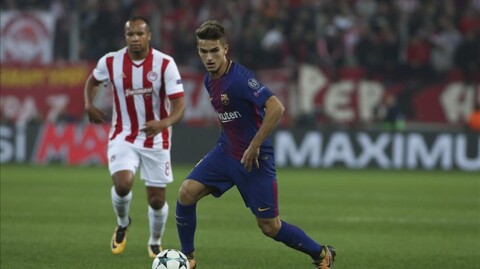 The former Villarreal player is ranked third in La Liga in terms of goal participation. Denis is involved in a goal (goal or assist) every 65 minutes, with two goals and two assists in 262 minutes.
Only Getafe's Angel Rodriguez (every 57 minutes) and Lionel Messi (every 60 minutes) are ahead of him. The Getafe forward has scored four times in 228 minutes, while Messi has 12 goals and three assists in 900 minutes.
These are the rankings of the best players in relation to minutes needed to be involved in a goal (goal or assist):
1-Angel Rodríguez, Getafe (57 minutes)
2-Lionel Messi, FC Barcelona (60 minutes)
3-Denis Suarez, FC Barcelona (65 minutes)
4-Guedes, Valencia (83 minutes)
5-Zaza, Valencia (86 minutes)
6-Bakambu, Villarreal (93 minutes)
7-Pione Sisto, Celta (94 minutes)
8-Isco, Real Madrid (109 minutes)
9-Luis Suarez, FC Barcelona (155 minutes)
10-Sergi Roberto (171 minutes)
11-Cristiano Ronaldo (270 minutes)