Buffon wants VAR in the World Cup play-offs, but Khedira calls it the death of football
While Gigi Buffon wants VAR in the World Cup play-offs, Juventus teammate Sami Khedira calls it "the death of football."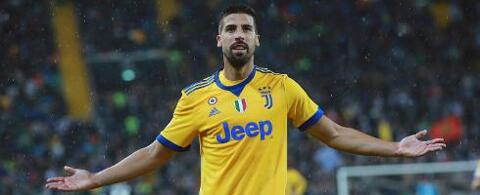 The debate over the Video Assistant Referee technology continues to rage on during its debut season in Serie A, though it will be used in the 2018 World Cup next summer.
"VAR is a good thing, but not the way it has been implemented. It needs better regulations," Khedira told reporters in Germany.
"Its application in the Bundesliga has been disastrous. Football is about emotions and mistakes are part of the sport. If we can avoid errors, that's better, but now players don't know whether to celebrate a goal or not, as they're waiting for the verdict.
"This way, you lose a lot of the passion. If we regulate a clear use of VAR, then that's ok, but when you stop a game for three minutes with the players standing there doing nothing, that is the death of football."
Khedira's Juventus teammate Buffon spoke about VAR and goal-line technology, neither of which will be used in tomorrow's World Cup play-off between Sweden and Italy.
"This introduction process of VAR is unusual, as it is being used well in Italy now, I feel, and in international matches of this level we cannot rely on the technology that could well be decisive, because there is so much at stake. That I find rather strange," said Buffon in his Press conference today.
According to reporter Tancredi Palmeri, FIFA would've been able to implement goal-line technology in Stockholm, but it was not requested by either the Swedish or Italian Federations.
Log in
or
Register
to save this content for later.