Marcelino: We will analyse the game and we are not getting carried away
Valencia coach Marcelino said that they are not getting carried away with a seventh straight victory and instead will carefully analyse their performance in the 3-0 victory over Leganes.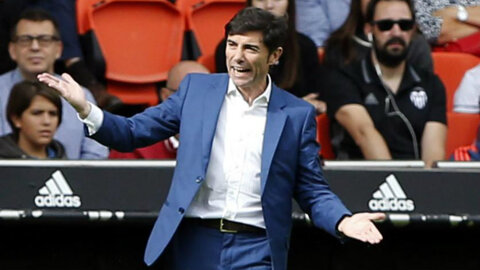 After several disappointing seasons it appeared as though Valencia would struggle again with little investment over the summer but instead under the leadership of Marcelino they are sitting second in the table with 27 points.
"After each game I have a 'but' or several 'buts' and there is not euphoria in the dressing room, just analysis about how we have played and there is no doubt that the hard part is to maintain this level," said Marcelino.
"No one can take away what we are experiencing at the moment and we need to enjoy it."
Marcelino admitted that the team had to work hard in order to come out on top against a battling Leganes.
"Any LaLiga game is difficult to win and this was a modest rival in name but very competitive as they showed in the match," he explained.
"We went ahead but Leganes made it difficult for us and had a chance to equalise while after the break we saw a more recognisable Valencia and we performed well."
Zaza refused to shake Marcelino's hand when he was substituted midway through the second half but the coach played down the incident.
"Simo wanted to play the 90 minute and got a bit hot-headed but I have spoken to him and he is nice guy and this was just a quick gesture. He is respectful towards the technical staff and we are happy with his work and attitude."
Log in
or
Register
to save this content for later.