Miranda believes Inter teammate Skriniar could be one of the best
Miranda believes Inter teammate Milan Skriniar "could be among the top five defenders in the world, if not his generation."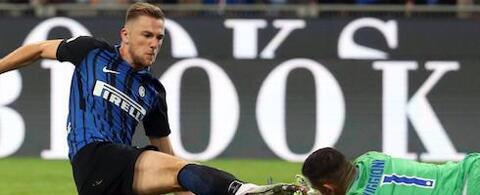 Skriniar's performances for Inter at the back have played a key role in the Nerazzurri's rise to second in Serie A, and Miranda revealed how 'easy' it was to play alongside the former Sampdoria stopper.
"I think we can fight for the Scudetto, but we have to think about Torino first," he told Inter's official website.
"Our main objective remains qualifying the Champions League. Skriniar? He's a great player and doing well.
"It was easy for me to adapt to playing alongside him and he could be among the top five defenders in the world, if not his generation.
"For as long as I'm an Inter player, I'll always give my best in this shirt. I like to win and it hasn't happened yet in this shirt.
"Therefore, my objective is this: to win with Inter. Formation? I like to play in back four because you have more possibilities to play the ball.
"The fans? They're great. They always support us and they're our real strength, especially when we play at San Siro. It's exciting.
"For a defender, it's easier to play in Italy it's more tactical and the general level of defending is better.
"For a striker, perhaps it's better to play in the Spanish League, where technique is most important. When things go well, it becomes easier, but you must always be a leader on the pitch."