The Premier League's sleeping giants awaken to take back control of Europe
It is now ten years since the last all-English final of the Champions League and with four games gone of the 2017/18 group stage, such an outcome to this season's competition is a real possibility for the first time in a while.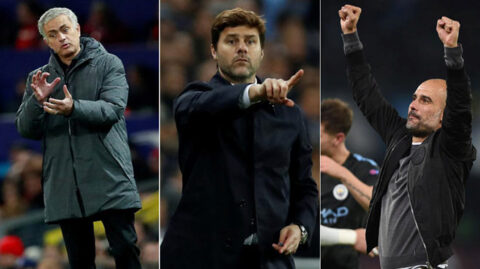 Only Paris Saint-Germain can match the 100 percent record of Manchester clubs City and United at this stage of the groups, with Pep Guardiola and Jose Mourinho's sides setting out their stall as genuine contenders from the first whistle.
The Citizens punished Napoli with a 4-2 win on their own turf on Wednesday night to make it nine years out of nine that Guardiola has taken his teams into the knockout rounds.
As Sergio Aguero notched his club record breaking goal at Stadio San Paolo, the Citizens nailed down their authority with goals coming from all over the pitch, namely Raheem Sterling and defender John Stones with three apiece thus far.
Down the road at Old Trafford, Mourinho has made United into the wily, hard-to-beat unit that he specialises in. Having conceded only one goal in Group A, it is from the back that the tactician has built his latest contenders.
And who can forget Tottenham Hotspur? A bedazzling 3-1 win over Real Madrid at Wembley Stadium was a coming-of-age match for Mauricio Pochettino and his youthful charges, confirming their qualification to the knockouts having missed out last season.
Thanks to the Red Devils' Europa League win, England still has two other clubs to consider with Liverpool top of Group E with 13 goals in four matches and Chelsea also looking good to qualify behind Roma in Group C despite losing in Italy, a loss which ended the Premier League's collective unbeaten run.
LaLiga letting itself go
Of course, this success from the British Isles leaves the Iberian Peninsula short changed. While only four English teams have reached the quarter-finals in five seasons, all of the last four trophies have ended up in Spanish hands.
Be it Barcelona or Real Madrid, LaLiga has become accustomed to monopolising the Champions League for its own entertainment, a theme which has abruptly ended in 2017/18.
Already, Los Blancos have been shoved into second place of Group H having stuttered versus Spurs while the Blaugrana showed their vulnerability with a goalless stalemate away to Olympiacos on Tuesday night.
Both, however, should qualify for the last-16 but Atletico Madrid already have one foot out the competition thanks to a winless start that includes two draws against Azerbaijan's newboys Qarabag. Elsewhere, Sevilla are in a real battle with Liverpool and Spartak Moscow to make it out of Group E.
All-Spanish finals and a guaranteed LaLiga lifter of the trophy is perhaps to be resigned to the history books, then, with Premier League clubs taking back control of what was once theirs. The aforementioned 2007/08 campaign had four English teams in the quarter-finals, and this year there are five sniffing around with intent.
Log in
or
Register
to save this content for later.