Vinicius Junior: Marcelo sends me a message when I play a good match
Flamengo youngster Vinicius Junior revealed that while he looks forward to messages of encouragement he receives from Real Madrid's Marcelo, for the time being he is enjoying his time in Brazil and not looking too far ahead.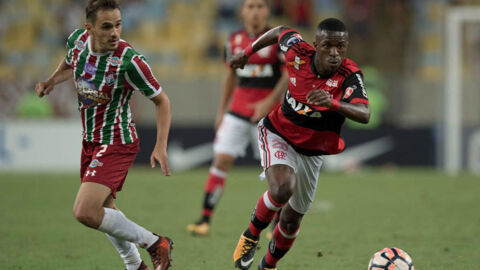 The 17-year-old has made 18 appearances for the Rio de Janeiro team so far this season and the player is confident he will continue to shine on the pitch.
"I'm calm, I still do not think about the time to leave," he told Globoesporte.
"I still have one more year until I know I'm leaving. I'm enjoying the moment I live in Flamengo."
Speaking of his critics, Vinicius remained positive and denied they bother him.
"I'm not bothered by that," he claimed.
"I know my potential and I know how far I can go. I am going to work a lot at Flamengo so as to not only remain as a promise."
In May this year, Real signed Vinicius, but it will become effective after his 18th birthday, next year.
"I have not spoken with Zidane, but I did with Marcelo, Casemiro and Danilo, about what it is like living in Madrid," the Brazilian said.
"Whenever I play a good game, Marcelo sends me a message.
"I'm always waiting for that message."